Today you're going to learn 9 of my favorite landing page best practices to greatly boost the conversion rate of your landing pages.
Getting you more subscribers, sales and ultimately - loyal customers.
in fact, these are the same techniques that I've used to get a solid 68% conversion rate on one of my own landing pages for The Ultimate Email Checklist in just a few days - without a loyal fanbase.
(FULL video version below)
Not only that but I also use these 9 landing page best practices every single time when I'm optimizing a landing page for maximum conversions for both myself AND my clients.
Why? Because higher landing page conversion rates equal more sales, better return of investment (ROI), and much more success with PPC ads (Adwords or Facebook).
However, most businesses routinely make several key mistakes that cause their landing pages to convert poorly - and as a result - lose customers and valuable sales in the process, leaving A LOT of money on the table that should be theirs.
I won't let you fall into this trap.
Use the tips mentioned in this article and you'll see a healthy improvement in your conversions and sales really quickly.
Best of all, these all work wonders in 2020 and beyond!
Interested in more great content on copywriting? Check out my Copywriting Resource Hub where you'll find in-depth guides, interesting case studies, and practical resources that will help you boost your conversions and sell more, without being salesy or aggressive.
Landing Page Best Practice #1: The Rule of One
So without further ado, let's dive right in with tip #1, which is to use something called...
Sounds weird, I know... but let me explain.

Before you even create a landing page, you want to make sure that it follows 3 key concepts:

1 - It's aimed at only ONE Reader
2 - It only has ONE Promise
3 - And It only includes ONE Offer.

So why should you only focus on ONE thing?

Because in order to convert, you need to powerfully hook the reader with a message that seems aimed DIRECTLY at them and their needs.

You see, most people make the mistake of trying to appeal to everyone, but in in terms of conversion, this is a HORRIBLE strategy…

Instead, make sure to always write copy targeted to the 20-30% of your traffic that's most likely to be part of your ideal market.

Because here's the thing:

Your ideal market needs and wants what you're offering.

They WILL buy from you, and WILL come back for more... IF...
You can demonstrate that you have a 'personalized solution' that's perfect for them.

And what better way to do this than to speak to their pains, fears, hopes, and dreams directly?

They'll appreciate A LOT, that's for sure.

And by the way, don't worry about not speaking to everyone.

Aiming your messaging to a narrower, but more qualified audience is a MUCH better way of gaining loyal customers.
---
Landing Page Best Practice #2: The 5 Stages of Awareness
I've mentioned this before in my 10 Email Marketing Best Practices guide but ​here's a quick recap in a nutshell.
The 5 Stages of Awareness relate to how far your visitor is on her journey to becoming a paying customer.
I also made a detailed video on the topic that you can check out below (told you it's super important!)
And as you can probably guess, knowing your ideal customer's Stage of Awareness is a huge competitive advantage and makes your copy MUCH more powerful.

So how do you find this out?

Some basic customer research or background information about your ideal customer should do the trick.

Don't worry, you don't have to get it perfect, you just have to approximate how close your ideal customer is to their purchasing decision.

And once you do, you can optimize your landing page around it.

For example, general opt-in pages - where your goal is to get more email subscribers - work best for pain aware or solution aware people.

However, if your visitor is product aware, you can comfortably offer them a free trial of your service with great results - or even ask for the sale straight-up if their close to being most aware.

But be careful with unaware people!
Lead generation pages don't work so well with them because they don't even know if they have a problem.

So what to do with them?

Simple: try to make them problem aware with your Ad.

So once they visit your landing page they AT LEAST know they have a problem.

And from there on, you can simply use an email campaign to make them solution aware, and finally, most aware with a dedicated sales or product page.

Listen, using this 5 Stages of Awareness technique in your marketing is so powerful, it can single-handedly boost your conversions by at least 30% if you use it wisely. No joke.
---
Landing Page Best Practice #3: Shock People Out of Their Zombie State with a Killer Headline
Nothing can boost your conversions easier than a powerful headline.
After all, there're the first thing people see on a page. But how important are they for real?

Well, according to this Copyblogger study (and many other A-list copywriters), the best marketers and copywriters routinely spend around 50-70% of the TOTAL time it takes to write a landing page just on the headline.

That's crazy!

However, it just just shows you how important headlines really are.

You need something that's emotion-inducing and grabs attention immediately - because otherwise your visitors will bounce away in about 2 seconds.

So how do you come up with a great headline?

Basically, you have 2 options:

Option 1: do tons of customer research, extract a lot of phrases that they use, and test various versions to find a winning headline.

This gives the absolute best results, but as you might expect, it takes FOREVER.

But what if you want to build a landing page FAST?

Well, fortunately, you have another option that works 90% as well, in just 1/10th of the time (And it works for every type of marketing text, not just landing pages)
Option 2: Here's what you do:
First, re-visit the key pain points and Stage of Awareness of your ideal customer.
Then, simply find a proven headline formula that best matches your situation

And finally, tweak the formula so that it becomes a unique headline - perfect for you.

Just make sure that your headline roughly matches the call the action of your ad that your traffic is coming from (in order to ensure message matching).

Now, to make your life easier, I've good a cool bonus for you.
Here's a ridiculously detailed list of 39 proven headline formulas that will help you command instant attention with anything you want.
These are winning formulas that have been tested over 50 years - and work in any industry.

Plus, you don't even have to write these from scratch. You simply fill in the blanks and you're all set.

Or simply click on the box below to get instant access.
---
Landing Page Best Practice #4: Use Credibility Markers and Social Proof Well
This 4th landing page best practice is actually quite straightforward:
Use Credibility markers & social proof.

I bet you've heard this before but I'm still mentioning it because a lot of people don't use social proof correctly.

Look, here's the thing: People are terrified of 'feel like a fool' whenever they make a decision...

Even if it's something small like ordering a cup of coffee, or something more significant like giving you their email address, it's definitely a major problem that you have to alleviate.

Fortunately, it's not that hard to include social proofing elements on your landing page.
In fact, you can even include several types of this.

Now, that cool's and all… But where should you put them for maximum effect?

Well, according to various studies, it's best to include social proofing elements next to call to action buttons or offers.

For example, on my own landing page, I've included the logos of a few companies I worked with right after the headline section.
This way, people immediately see that I've worked with some legit clients.
However, I didn't stop there.

Because after highlighting my lead magnet's value with desire-building bullets, I included another social proofing element: testimonials.
These are the gold standard of social proofing and credibility, and you should definitely use them all around your website.

Just make sure to use testimonials that aren't one liners - but more in-depth accounts of how your product or service helped your customer… and took them from their painful current situation to their ideal situation.

Now, do you ALWAYS have to use social proof elements like this?

No.

The important thing is to make sure to use them whenever they're needed.

And here's a great question that can help you decide if an extra social proof element is needed or not:

Whenever you're going through your landing page, ask yourself:

"Would this line be more credible if someone else said it?..."
And THIS is when you should use social proof!
Simple.
---
Landing Page Best Practice #5: Use Bullets that Create Burning Desire
I kind of mentioned a bit in the previous tip: Bullets that create burning desire.
And this is HUGE. So much so, in fact, that no good sales page or sales message can exist without them!
However, the problem is that most bullets suck.
Why?

Because they focus too much on the features - and not enough on the benefits of your offering.
Here's a handy guide to give you a better idea of the difference between the two:
COPYWRITING PRO TIP - FEATURES VS. BENEFITS
What's the difference between the two?
It's quite simple: features are the blocks of what your product can do. These can describe the physical elements, characteristics, observable static aspects, technical descriptions, size, or shape of a product.
On the other hand, benefits "translate" these features into actual benefits that personally affect your reader or make their lives better.

For example, a benefit might be something that tastes good, gives satisfaction, allows fast and easy results, saves times or money, makes money, allows peace of mind, and so on...
The idea is that people can personally identify with benefits because let's be honest: they don't care about the features of your product...
They only care about what these features can do for THEM!
I also have a detailed article that analyzes 7 proven bullet formulas, why they work, and how to use them for maximum effect. If you want to sell more of anything, you should definitely check it out.
As the saying goes:
'Nobody wants to buy a hammer… they just want a hole in the wall'
​
So keep these in mind whenever you're creating bullets for your landing page.

And here's a PRO TIP for you: if you want to write really good bullets, make sure to use vivid imagery, power words, and concrete descriptions.

For example, take a look at these bullets from my landing page.
Notice how the language used is basically selling prospects a better & happier version of themselves.

Whoever is even remotely interested in email marketing will be salivating over these outcomes!

By the way, feel free to replicate the same structure if you want.
---
Landing Page Best Practice #6: Have a Solid User Experience (UX)
OK. This can single-handedly make or break a landing page.

In fact, UX is such a huge topic that probably deserves its own video besides this landing page best practices guide. However, I still wanted to mention it because it's crazy important.

According to various Psychological studies, people engage much more with a web page if it has better UX.

What does this mean, exactly?

Basically, it all comes down to eliminating friction and unnecessary distractions.

Remember those old-school websites with tons of links, colors, and in-your-face text?
Yeah, I'm talking about those…

From a UX perspective, they were HORRIBLE - and would never work in 2020.

On the other hand, check out this landing page from none other than LeadPages: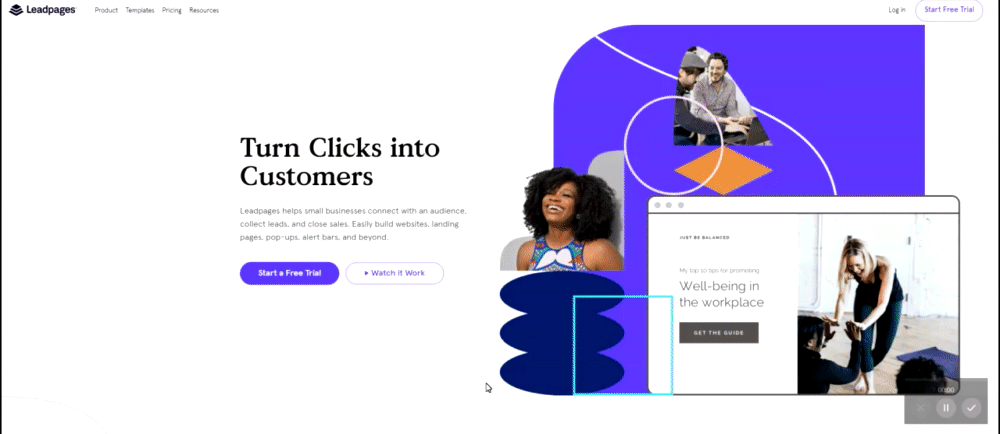 Notice how simple and effortless everything is.

There are no overly-distracting colors or design elements that can make you lose focus.

In fact, the whole page is carefully designed in a way to let your attention flow naturally to the bottom of the page - or to the VERY visible call to action button.

Also notice how everything has a consistent style - making visitors feel safe & comfortable.

Oh, and this consistency principle is also visible throughout their website - and even in their Ads!

Of course, LeadPages has dedicated UX people working for them 24/7.

So how can YOU improve your User Experience without hiring dedicated professionals?
Here are 3 mini-tips to get you started:

1 - Start by eliminating unnecessary clutter from your page
2 - Introduce more white space and make your paragraphs shorter
3 - Make sure that your page is properly optimized for mobile (most of your traffic)
---
Landing Page Best Practice #7: Own Your Personality, Tone, and Voice
Unfortunately, most people totally overlook this.

Most marketers think that they need to sound 'professional' to impress customers.

Sometimes this works reasonably well, in theory - however, in real life, people prefer buying from other people - instead of generic companies that always 'pride' themselves over this or that.

In fact, we become fans of people and human-centric brands when they open up and showcase their genuine personality.

Why?

Because it's different - and honest.

And this is true for the B2B space as well.

Seth Godin, in his awesome book 'The Purple Cow' explains beautifully how people always remember faces & brands with striking personalities - and easily forget about the rest.

Just think of Deadpool for a moment. Almost everyone loves him because he's not your typical generic superhero.
On the other hand, if you think about Steppenwolf from Justice League (the movie version) - nobody really cares…
And if you don't know who Steppenwolf is - it's because he's no Purple Cow, that's for sure.

So, does that mean that you should imitate Deadpool's style?

Well, not really… unless your brand is based around going against the status quo.

The important thing to remember is to showcase your personality with pride - and let it flow through in your words - EVEN IF that means quirky copy (or images).

Your ideal customers WILL notice it and the will be drawn to it.
I mean, would you really ignore a cold email like this from Jon Buchan, for example?
If you're his ideal customer, I doubt it 🙂
---
Landing Page Best Practice #8: Use Action-inducing Calls to Action
Hey, congratulations for getting this far in this landing page best practices guide.
You're most likely already way ahead of your competition when it comes to a conversion-optimized landing page.

If you've liked this article so far, click on one of the social media buttons to the side (or below if you're reading this on mobile) and consider sharing it with other like-minded people who might benefit from it as well. I'd forever be grateful.

By the way, see what I just did there?

That's a call to action right there.

However, for your landing page, this is not enough - you have to be bolder.

Because here's the thing: people need explicit guidance on what to do next.

There are just so many distracting factors on the web that you cannot leave it to chance.

Fortunately, at this point, you already have everything you need to craft a powerful CTA - or upgrade your existing one.

Here's what to do, in 3 easy steps.
Step 1
Revisit your headline & consider your ideal customer's initial Stage of Awareness when landing on the page.
Step 2
Think of your landing page as a journey that makes people more aware of their problem & come up with an irresistible solution that can help them solve it.
Step 3
Simply tell people exactly what to do next for instant access to your solution - in a simple, easy to understand way.
Step 4
Create 3 versions of this and spice it up with benefit-driven language. Then simply choose a winner - and leave the other 2 for A/B testing later on.
Look, tweaking CTAs often has a dramatic effect on conversions. But if you respect the 4 steps mentioned above, you'll be just fine.

PRO TIP: feel free to include a CTA at the beginning & the end of your page as well - they're both important.

And that's it. Now you have an awesome call to action. Congratulations!
---
Landing Page Best Practice #9: Edit Mercilessly
And that brings us to the final tip of this landing page best practices guide, which is to edit your landing page mercilessly before going live.

Listen, the truth is that nobody comes up with a truly awesome landing page on the first try, not even the best copywriters.

Instead, what separates amateurs from pro-s is the editing process.

Understandably, most people are completely terrified of this, however, it's actually not that bad.

In fact, I'm going to show you exactly how to make it much less intimidating and actually FUN.

Here are 5 techniques you can use to take your copy from 'meh' to 'awesome' in just a few minutes:

First, go over your initial draft and cut out all the fluff, repetitive words, and passive voice.
Then, go over it one more time, and this time focus on making the sentences shorter, with only 1 thought per sentence.

Third, replace complicated words with simpler terms. Instead of an academic style, you should aim for an 8th grade reading level to make your text REALLY easy to understand. No kidding, this really works.

Fourth, make sure to eliminate 'warm-up copy' from your paragraphs and ONLY focus on what the reader wants to read.

And finally, replace 'I's and 'We's with YOU's - because remember, high-converting copy is ALL about the reader, not about you, or the company.

And that's pretty much it.

Once you feel that your copy is 90% good, it's pretty much good enough and you're good to go.
CONCLUSION
---
And that's it for this landing page best practices tutorial. So let's do a quick recap of all 9 tips mentioned in the article.
Use these 9 tips wisely and you'll no doubt see a massive boost in your conversions.
And now, I want to turn it over to you.
Which of the 9 landing page best practices are YOU going to use first?

Tweaking your headline with the formulas linked below or figuring out your Ideal Customer's Stage of Awareness?

Let me know by leaving a quick comment below. Thanks for reading.
Interested in more great content on copywriting? Check out my Copywriting Resource Hub where you'll find in-depth guides, interesting case studies, and practical resources that will help you boost your conversions and sell more, without being salesy or aggressive.